Illinois
The Saatva Rx mattress or Saatva classic mattress: Which one is right for you?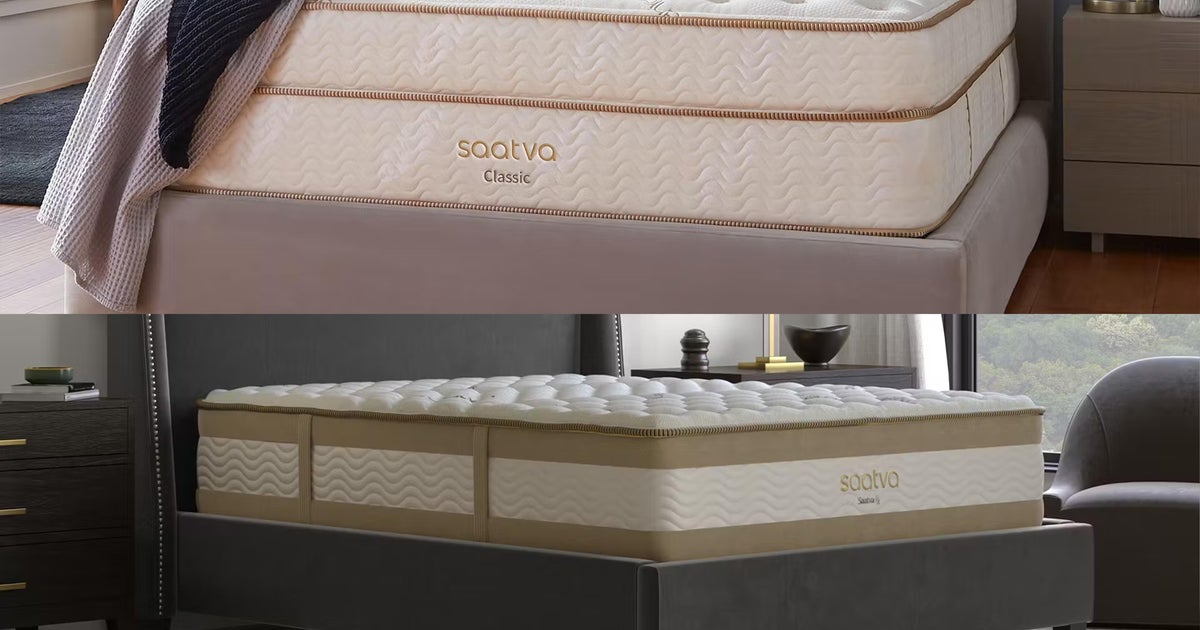 Are you tired of sleeping on a mattress that isn't as comfortable or supportive as you'd like? Looking for the perfect relief from irks and quirks and aches like chronic back pain? We took a close look at two popular mattresses, the Saatva classic and the Saatva Rx, to see how they compare to one another.
These two hybrid innerspring mattresses are both plush options that can help you drift off to sleep comfortably. But deciding on which mattress is best for you depends on a few factors, such as whether you regularly deal with back pain.
In order to give you the best look at these two different Saatva mattresses, we asked several experts to weigh in on the pros and cons of each. Take a look at our analysis below, as well as our reviews for each mattress type and general tips for mattress shopping, before deciding on which mattress is right for you. 
Comparing the Saatva classic and Saatva Rx mattresses
"The Saatva Rx and Saatva classic are both popular mattress models from Saatva, but they cater to slightly different needs, making the Saatva RX stand out in specific ways," says nurse Rhianna Jones.
"Ultimately, the choice between Saatva RX and Saatva Classic will depend on individual needs, such as whether you require specialized lumbar support for back pain (Saatva RX) or prefer a luxurious innerspring mattress with multiple firmness options (Saatva Classic). Consider your unique sleep requirements and comfort preferences when making your decision."
We look more closely at these requirements and preferences below, but one of the biggest differences between these two mattresses is the added lumbar support present in the Saatva Rx mattress. Chronic back pain typically lasts three months or longer, and depending on your symptoms (and their severity), you may want to prioritize good lumbar support when shopping for a new mattress. Talk with your doctor if you know or suspect you're dealing with back pain. 
The Saatva classic mattress is a great choice for alleviating normal aches and pains, plus it comes in three firmness levels (plush soft, luxury firm, and firm) so you have options depending on what level of support you're looking for.
Sinking into the Saatva classic mattress
All that said, the classic mattress is a great all-around option for just about any kind of sleeper.
Why?
"The Saatva Classic boasts an eco-friendly construction, with an organic cotton cover, a Euro pillow top for extra cushioning, and a dual steel coil support system that provides a balance of support and comfort," says editor-in-chief at Ottoman Textiles Barbara Stern. "This mattress has three firmness options – plush soft, luxury firm, and firm, catering to a broader range of sleep preferences and body types."
It's what's on the inside that counts, right? To that end, the Saatva classic mattress is known for its durable innerspring base coil unit that's covered with individually pocketed coils. All those coils mean this mattress is great at contouring your body and providing relief to key pressure points. 
The classic model offers three firmness levels:
Plush soft is great for sleepers who want to sink into a deep, cushiony mattress that hugs your entire body.
Luxury firm strikes the middle ground between soft and firm to offer up a balance of comfort and support.
Firm is designed to keep you in place while you lie atop the mattress instead of sinking deep within. If your doctor recommends an extra-firm mattress, this is your go-to.
The Saatva classic mattress is also the more budget-friendly Saatva pick. The queen size typically sells for $1,995, but nimble shoppers can save nearly $300 by making a purchase during this current markdown period.
Who's it for? Sleepers with any sleep style interested in basic relief from general aches and pains, as well as anyone who prefers to have a choice between different firmness options.
---
Getting comfy with the Saatva Rx mattress
"The Saatva Rx is designed to provide a cooler sleep experience with its organic cotton cover and additional ventilation in the form of perforated Talalay latex," says Stern.
"This mattress features three layers of foam and a sturdy coil system, promoting spinal alignment and pressure relief. The Rx model is also touted for its zoned lumbar support, which can be a boon for those with back issues or anyone needing extra support in the lumbar region."
Although the Rx model is a hybrid innerspring mattress like its classic counterpart, the design is a little different here. Instead of several layers of supportive coils, the Saatva Rx is made up of a pocketed coil unit that's covered with a two-inch thick foam layer known as the therapeutic support core. On top of that is a one-inch layer of micro-coils that are more flexible than other coil types. 
This modular coil and foam setup results in superior motion isolation and body contouring than other mattress types. If you suffer from serious back or joint issues, we recommend settling for nothing less than this level of support and pressure relief. 
Due to the targeted design of the Saatva Rx mattress, the price tag is noticeably higher than the classic model. A queen size Rx mattress typically sells for $3,295, but there's some good news: If you shop this mattress now, you can make use of the current eyebrow-raising discount and get this model for just $2,801. That's nearly $500 in savings for anyone keeping a tally.
Who's it for? Sleepers with severe or chronic back pain or anyone looking for maximum support and pressure relief to counter nightly discomfort. 
---
Which is better, Saatva classic or Saatva Rx?
Mattress shopping is a personal experience. No two shoppers have the exact same sleeping styles or preferences, so there's never going to be a clear-cut mattress winner that's perfect for everyone. 
If your priority is maximum relief from back or joint pain and your doctor has confirmed that a normal, run-of-the-mill mattress might be insufficient, we recommend the Saatva Rx mattress. There's no denying that this model's design is perfect for contouring your body and providing optimal comfort and pressure relief — just be ready to pay a couple grand for such a mattress.
For sleepers who deal with less severe pain or discomfort, shoppers who appreciate having different options when it comes to a mattress's firmness level, or anyone looking for a more budget-friendly option, we recommend the Saatva classic mattress.
---
Our tips for shopping for a mattress online
When asked what customers should look for while shopping for a mattress of their own, Jones laid out several points for consideration:
Support and Comfort: Look for a mattress that offers the right balance of support and comfort based on your sleep preferences and any specific needs you may have, such as back pain or pressure relief.
Durability: Consider the quality of materials and construction to ensure the mattress will provide long-lasting comfort and support.
Firmness Level: Choose a mattress with the appropriate firmness level that suits your sleeping position and comfort preferences.
Price and Budget: Consider your budget when selecting a mattress, as different models vary in price.
Sleep Trial and Warranty: Check for a generous sleep trial and warranty, which can provide peace of mind when making a mattress purchase.
Comfort, firmness, and durability are three important factors to examine before you invest in a new mattress — they're also hard to gauge when shopping online. While it's not a perfect system, most bedding retailers rate their firmness with a relative scale between one and 10. This scale can help you understand the firmness level you're looking for:
One to four: Soft. If you're a side sleeper looking for maximum comfort — or just love to sink deep into a cloud-like mattress — this is your ideal firmness range.
Five to six: Medium or medium firm. Your average hotel mattress typically fits this description. This middle ground is typically ideal for back sleepers. 
 Seven to ten: Firm. If you crave ample support or maximum durability from your mattress, aim for these higher numbers.
The other thing to look at is mattress type. Both the Saatva classic and Saatva Rx mattresses are hybrid innerspring types, which means you're getting a combination of spring coils and other rich, supportive materials. Other common mattress types include memory foam mattresses, which contour to your body (great for aligning your spine and minimizing soreness), and latex mattresses, which are on the more durable side. 
---
How we reviewed and compared each Saatva mattress
When comparing the Saatva classic mattress and Saatva Rx mattress side by side, we considered a number of important factors:
Customer reviews: We combed through verified customer reviews — in other words, real buyers — to ensure that the advertised comfort, firmness level, and pressure relief for each of these Saatva mattresses was legit. 
Pain relief: While both of these Saatva mattresses are ideal for providing targeted pain relief, we looked closely at the design differences between the two to see which is best for pain or discomfort resulting from serious or chronic back pain.
Your needs: We couldn't confidently compare these two quality mattresses without factoring in the specific needs and preferences of shoppers, so that's exactly what we did.
---
Related content from CBS Essentials
https://www.cbsnews.com/essentials/the-saatva-rx-mattress-or-saatva-classic-mattress-which-one-is-best/ The Saatva Rx mattress or Saatva classic mattress: Which one is right for you?