Illinois
Investigators release images of "person of interest" in 10 Freeway arson fire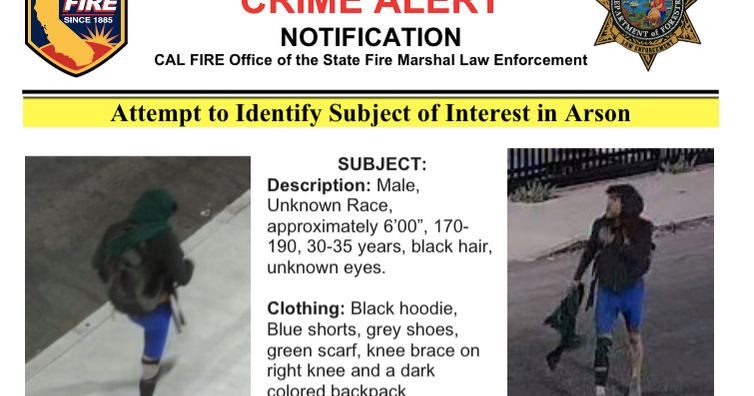 Authorities have released images of a "person of interest" who they believe may be connected to the massive fire that forced the closure of the 10 Freeway on Nov. 11. 
The blaze completely decimated a storage yard filled with pallets, construction materials and used vehicles, spreading about eight acres as it torched the area underneath the extremely busy thoroughfare used by hundreds of thousands to get to and from downtown Los Angeles. 
On Saturday, CalFire officials released a pair of images showing the unidentified person they're searching for. 
They described the suspect as a man in his 30s who is around 6-feet tall and weighs between 170 and 190 pounds. He has black hair. 
In the images, the man is seen wearing blue shorts, a black jacket, a black backpack and a green scarf. He also had a knee brace on his right leg.
Authorities also said the subject "appeared to have suffered visible burn injuries on his left leg."
On Monday, California Gov. Gavin Newsom and Mayor Karen Bass were joined by a number of other city officials at a press conference where they disclosed that the fire was likely started with "malice intent."
In the days since the fire, which torched more than 100 columns of the freeway and forced around the clock reparations from Caltrans and construction crews, traffic has been severely impacted, with officials urging commuters to consider public transit in order to avoid the congestion altogether.
Related: Bass says Metro's E Line ridership is up 10% with 10 Freeway rebuild underway
Despite the ongoing construction and prediction that the freeway would not be reopened until early-December, surveyors determined that the deck was much sturdier than they had previously thought. As such, all lanes are expected to be reopened to traffic as soon as Tuesday. 
No injuries were reported in the fire, but at least 16 homeless people living in an encampment there were taken to shelters, according Mayor Bass.
An arson investigation remains underway and no arrests have been made. Anyone who recognized the individual in the images above was asked to call Cal Fire's arson hotline at 1-800-468-4408. 
Thanks for reading CBS NEWS.
Create your free account or log in
for more features.
https://www.cbsnews.com/news/authorities-release-images-of-person-of-interest-in-10-freeway-suspected-arson/ Investigators release images of "person of interest" in 10 Freeway arson fire