Illinois
Hundreds arrested in clashes at flashpoint Jerusalem mosque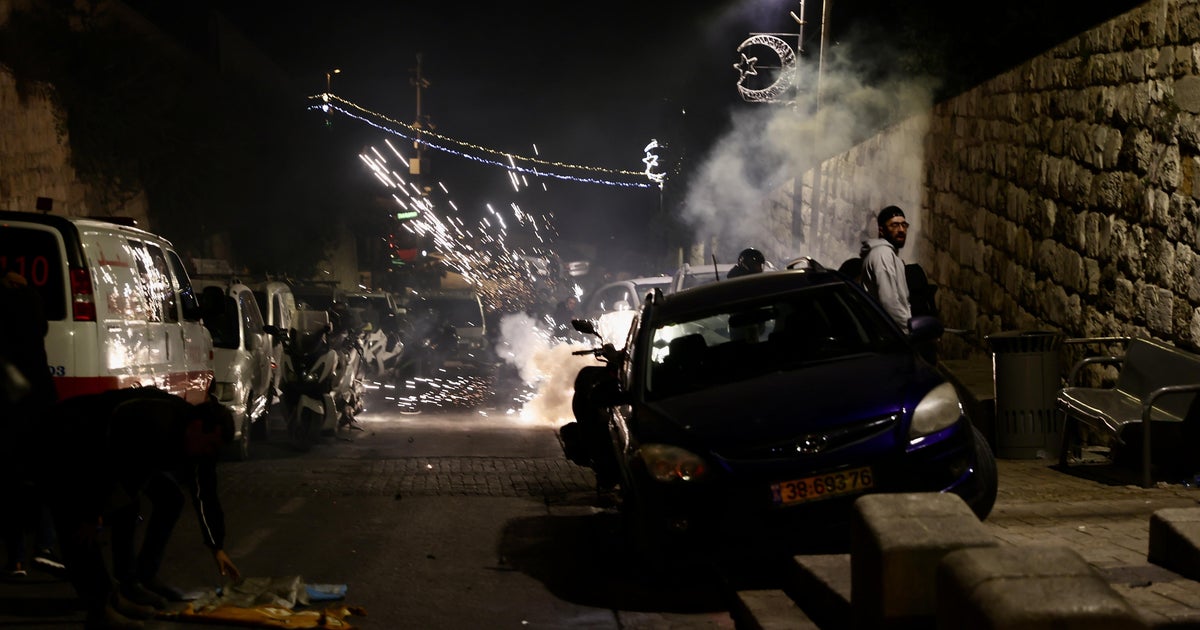 Israeli police broke into the Al-Aqsa Mosque in Jerusalem's Old City early Wednesday morning and fired stun grenades at Palestinian youths. Gaza militants have fired rockets into southern Israel, prompting Israeli airstrikes.
A spokesperson for the Israeli police said they had arrested more than 350 people who had "violently barricaded themselves" inside, reports Agence France-Presse.
The fighting, which occurred as Muslims marked the holiday month of Ramadan and Jews prepared to start Passover on Wednesday night, blamed Palestinians and raised concerns over a wider conflagration. A similar conflict occurred two years ago. 11 days war between Israel and HamasThe Israeli military said a soldier was shot dead in another incident in the occupied West Bank.
The mosque stands on a delicate hill, sacred to both Jews and Muslims. Al-Aqsa is Islam's third holiest place and is usually filled with worshipers during Ramadan. Known to Jews as the Temple Mount, this place is also the holiest site in Judaism and is revered as the site of the Biblical Jewish Temple. Conflicting claims fuel a constant tension that has spilled over into violence many times in the past.
Palestinian official news agency Wafa said dozens of worshipers who had spent the night in prayer were injured in police raids.
Israeli police said they were moved after "several law-breaking youths and masked agitators" barricaded themselves in the mosque with fireworks, sticks and stones. He chanted violent slogans and locked the front door.
"After repeated attempts to evict them by talking in vain, police were forced to enter the premises to evict them," police said.
A video released by police showed fireworks repeatedly exploding inside the mosque. An amateur video shot by a Palestinian showed police brawling with people, beating them with clubs and rifle butts, while a female voice shouted, "Oh god, oh god."
Outside the gate, police dispersed a group of youths with stun grenades and rubber bullets.
Police said one officer had a leg injury.
Tarab Abu Eisha, 49, said more than 400 men, women and children were praying at Al-Aqsa when police besieged the mosque.
"Young people started slamming doors in fear," he said, adding that police forces "raided the east corner, beat and arrested men there."
"It was an unprecedented scene of violence in terms of police brutality and intent to harm young people," he said, denying police claims that young people were hiding fireworks or rocks. He added that all men under the age of 50 were blocked from passing through the old city gates for morning dawn prayers.
Palestinian militants responded by firing rockets from Gaza into southern Israel, sounding air raid sirens in the area as residents prepared for the start of the week-long Passover holiday. rice field.
The Israeli military said a total of five rockets were fired and all were intercepted. A few hours later, Israel responded with air strikes on Gaza. There were no immediate details about the target.
tension is rising Steadily rising since Israeli Prime Minister Benjamin Netanyahu's new far-right government took office The end of last year. The government is dominated by religious and ultranationalist hardliners, and the overlapping Jewish and Muslim holidays have led to fears of violence as tens of thousands of worshipers head to war-torn Jerusalem. It is rising.
The police are overseen by Itamar Ben Gubir, an ultranationalist with a history of violent rhetoric against Palestinians.
In Gaza, Hamas called for mass protests, with people beginning to gather in the streets and urging them to head to the heavily guarded Gaza-Israel border for more violent demonstrations.
Palestinian extremist groups Hamas and Islamic Jihad have also called on Palestinian residents of Jerusalem, the West Bank and Israel to gather around the Al-Aqsa Mosque and confront Israeli forces.
In the occupied West Bank, Palestinian leaders have condemned attacks on worshipers. Nabil Abu Rudyneh, spokesman for Palestinian President Mahmoud Abbas, warned Israel that such a move would "cross all red lines and lead to massive explosions."
The Jordanian government, which manages the mosque, condemned the Israeli attack "in the strongest terms". The Ministry of Foreign Affairs "warned of the consequences of this dangerous escalation and held Israel accountable for the safety of the Blessed Al-Aqsa Mosque."
As violence unfolded in Jerusalem, Israeli forces reported fighting in Palestinian towns in the occupied West Bank. Residents of Beit Umar, near the volatile city of Hebron, said they burned tires and threw stones and explosives at soldiers. A soldier was shot by an armed suspect and fled.
Earlier Tuesday, a Palestinian suspect stabbed two Israelis near an army base south of Tel Aviv, police said.
First responders treated two men with serious injuries and minor stab wounds in an incident on a highway near the Tzrifin military base, according to the Magen David Adom ambulance service. was taken to
Israeli media identified two of the victims as soldiers.
Police said civilians at the scene arrested the suspect and took him into police custody for questioning.
Israeli-Palestinian violence surged last year as Israeli forces raided Palestinian cities, towns and villages almost every night and Palestinians launched numerous attacks against Israelis.
At least 88 Palestinians have died in Israeli fires this year, according to an Associated Press tally. Palestinian attacks on Israelis killed 15 over the same period.
Israel says most of the Palestinians killed were militants. But stone-throwing youths and bystanders who were not involved in the violence also died. All but one of the Israeli dead were civilians.
https://www.cbsnews.com/news/clashes-hundreds-arrests-al-aqsa-mosque-jerusalem/ Hundreds arrested in clashes at flashpoint Jerusalem mosque