Illinois
Earthquake death toll exceeds 16,000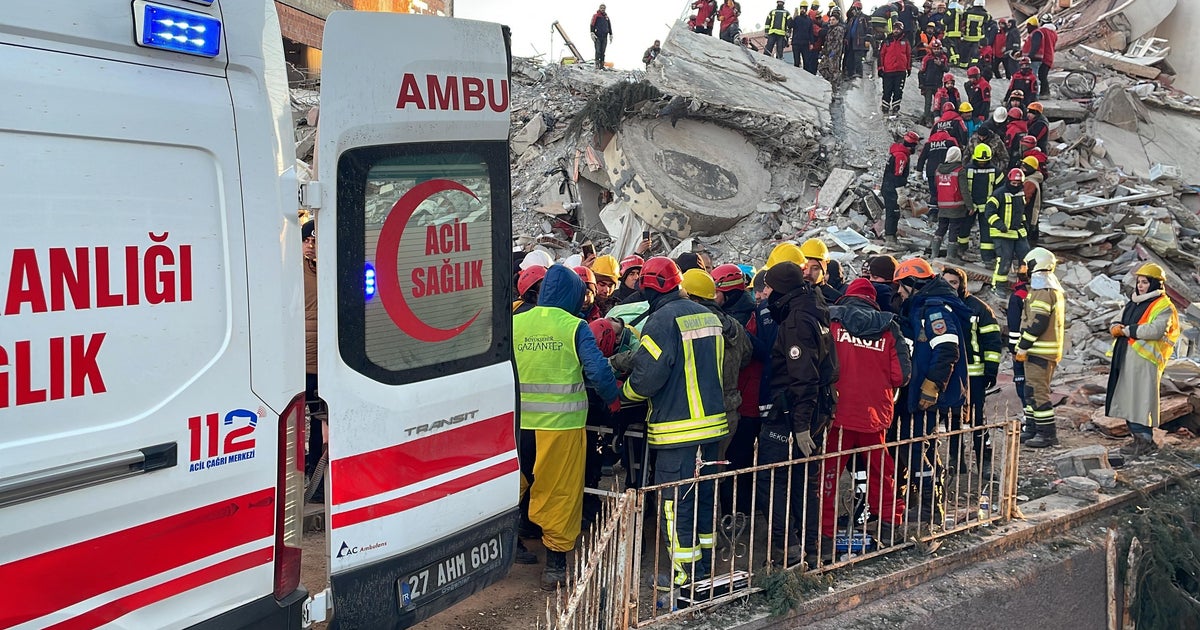 Gaziantep, Turkey — Rescuers pulled more survivors from under the rubble of a collapsed building on Thursday, but hopes of finding more people alive after more than three days were starting to fade. . devastating earthquake A series of aftershocks hit Turkey and Syria, killing more than 16,000 people.
Paramedics working overnight in the city of Antakya were able to drag the girl from the ruins of a building and rescue her father alive two hours later, IHA news agency reported.
As they prepared to load the man into an ambulance, rescuers told him his daughter was alive and would be taken to the same field hospital for treatment.
"I love you all," he whispered softly to the rescuers
In Diyarbakir, east of Antakya, rescuers rescued an injured woman from a collapsed building early in the morning, but found three people next to her dead in the rubble, the DHA news agency reported. rice field.
But experts said the survival period for those trapped under rubble or without access to basic necessities is fast approaching. At the same time, they said it was too early to give up hope.
"The first 72 hours are considered critical," says Steven Godby, a natural disaster expert at Nottingham Trent University in England. 22%, 6% by day five."
In addition to the 12,873 people killed in Turkey, the country's disaster management agency said more than 60,000 were injured.On the Syrian side of the border, 3,162 people were reported dead and more than 5,000 injured. , the death toll in both countries stands at 16,035.
Tens of thousands are believed to have lost their homes. In Antakya, former residents of a collapsed building gathered around an outdoor fire all night until Thursday, wrapping blankets tightly in an attempt to keep warm.
Serap Arslan said many people, including his mother and brother, remained under the rubble of a nearby building. She said the machine only started moving some of the heavy concrete on Wednesday.
"We've tried to clear it by our own means, but unfortunately it's very inadequate," said the 45-year-old ready for work.
Selen Ekimen wiped the tears off her face with her gloved hand and explained that her parents and siblings were still buried.
"No sound from them for days," she said. "none."
President Recep Tayyip Erdogan was scheduled to visit the earthquake-hit provinces of Gaziantep, Osmaniye and Kilis on Thursday amid continuing criticism that the government's response was too slow.
According to the Disaster Management Agency, more than 110,000 rescue workers are currently involved in the effort, and more than 5,500 vehicles including tractors, cranes, bulldozers and excavators have been shipped.
But the work is monumental, as the earthquake destroyed thousands of buildings.
Erdogan, who is facing a tough battle for re-election in May, has admitted that his emergency response to Monday's magnitude-7.8 earthquake was a problem, but said winter weather was a factor. The quake also destroyed the runway at Hatay airport, further disrupting the response.
"It is impossible to prepare for such a catastrophe," Erdogan said. He hit back at critics, saying he was spreading "lies and slander" about his actions.
Turkish authorities have also said they are targeting disinformation, with internet watchdog group Netblox on Wednesday restricting access to Twitter in Turkey, even though survivors use it to alert rescuers. said to have been.But Twitter CEO Elon Musk murmured "Twitter has been informed by the Turkish government that access will soon be restored," it said Wednesday night.
NetBlocks also said on Thursday that "Twitter access is #turkey Next time filtering. The restoration was done after authorities held a meeting with Twitter to "remind Twitter of its obligations" regarding content removal and disinformation.
The disaster comes at a sensitive time for Erdogan, who is facing an economic downturn and high inflation. The perception that his government mismanaged the crisis could hurt his position.He said the government would distribute his 10,000 Turkish lira ($532) to his affected family members.
Teams from more than 20 countries are participating in this effort alongside local emergency workers. However, the scale of the destruction from the earthquake and its powerful aftershocks was so large and so widespread that many people were still waiting for help.
This area is already More than a decade of civil war in SyriaMillions have been displaced inside Syria and millions more have sought refuge in Turkey.
In Syria, aid efforts are hampered by the ongoing war and the isolation of rebel-held areas along the border surrounded by Russian-backed government forces. Syria itself is an international pariah under Western sanctions related to the war.
The quake has already killed more people than the magnitude 7.8 earthquake that killed 8,800 people in Nepal in 2015. The 2011 earthquake in Japan triggered a tsunami that killed nearly 20,000 people.


https://www.cbsnews.com/news/turkey-syria-earthquake-death-toll-rescues-window/ Earthquake death toll exceeds 16,000