Illinois
Colorado Springs shooting: 5 dead, 25 injured at LGBTQ nightclub.Anderson Lee Aldrich identified as suspect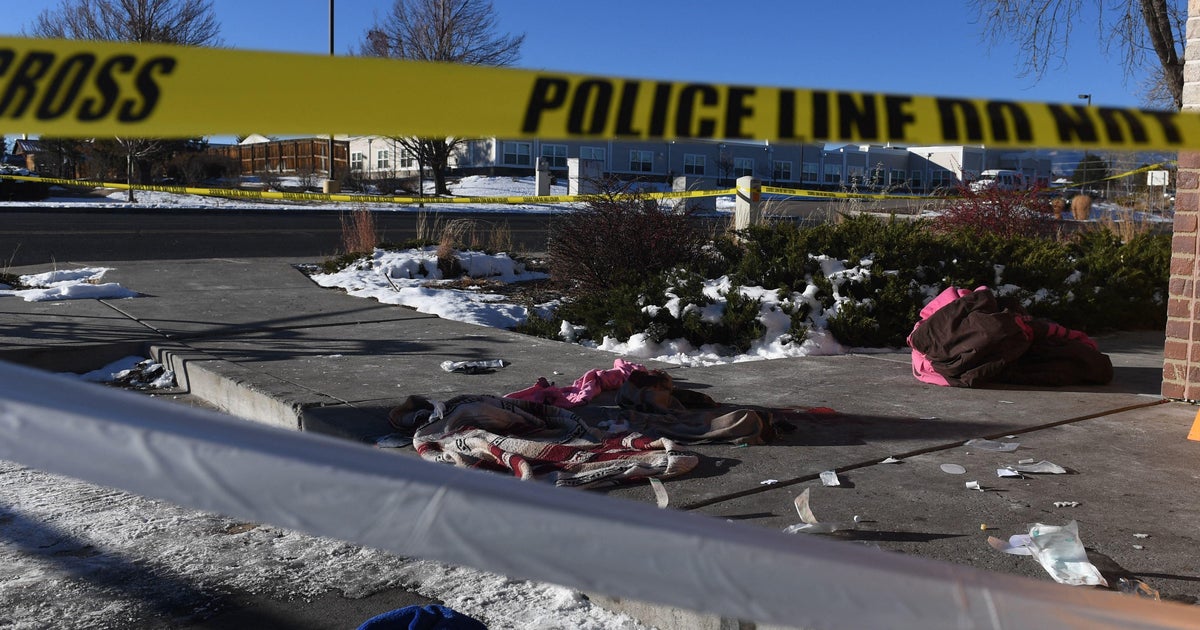 A 22-year-old gunman opened fire at a gay nightclub in Colorado Springs, killing five and injuring more than 20, before being subdued by "heroic" patrons and arrested by police on scene within minutes. It's Sunday.
At a press conference Sunday morning, Colorado Springs Police Chief Adrian Vazquez identified the suspect as 22-year-old Anderson Lee Aldrich, who was being treated for injuries.
Describing the nightclub Club Q as a "safe haven for LGBTQ citizens," Vazquez said the suspect began firing at patrons as soon as he entered the venue. As he moved further inside, at least two people confronted him, fought, and stopped firing. The suspect used a "long rifle" and found at least one other firearm when officials arrived at the scene, the police chief said.
City officials said a total of 25 people were injured. At least seven of the 25 were in critical condition, officials said. A police spokesman said it was not clear if all the victims had been shot, as some were injured while trying to escape.
Investigators are still identifying a motive and the attack is being investigated to see if it should be charged as a hate crime, said El Paso County District Attorney Michael Allen. "It will likely involve first-degree murder," he said.
Colorado Springs Mayor John Suthers said: "One or more patrons bravely stepped in to subdue the suspects," a statement on Sunday said. "We commend those individuals because their actions saved lives."
A man in the club said CBS News Colorado He heard four or five muffled shots that he initially mistook to be part of the music.
Joshua Thurman told CBS News Colorado, "Another set of shots rang out, and as I turned left I saw a muzzle flash and ran to the dressing room." turned off the lights of
Thurman said they could hear "everything."
"So we heard a total of three gunshots," Thurman said. "I heard the perpetrators being beaten by people who were inside Club Q. I don't know if they were employees or customers. We saw dead bodies. It was horrible."
Bartender Michael Anderson told CBS Colorado Springs affiliate KKTV that it started off as "an ordinary night."
"I went outside and a few feet away I saw someone lying on the ground and the door from the dance floor. The patio was a glass door and all that glass was shattered." "It was all over the ground," Anderson said. I approached them and they didn't respond much to the voice so I wasn't , and footage from the evening that saw the safe place turned into a war zone."
The riots are the sixth mass murder this month, coming in a year that rocked the country after 21 people were killed in a school shooting in Uvalde, Texas.
In the wake of the shootings, President Biden once again called on elected officials to take action to stop gun violence and reiterated the need for a ban on assault weapons. He also lamented that the shooting has joined other violent attacks, including his 2016 attack on the LGBTQ community. pulse nightclub Standing against transgender women in Orlando, Florida.
"Places that are supposed to be safe places of acceptance and celebration should never be transformed into places of fear and violence…but it happens all too often," he said in a statement. , we must eradicate the inequalities that contribute to violence against LGBTQI+ people. Hate cannot and must not be tolerated."
Colorado Governor Jared Polis, who has been in quarantine with COVID-19, called the shooting "horrifying, sickening and devastating." statementand that "local law enforcement in Colorado Springs has access to all of the state's resources."
"We are eternally grateful to the brave individuals who may have stopped the shooter and saved lives in the process, and to the first responders who responded swiftly to this horrific shooting," Police said.
Police on Sunday also ordered all flags on public buildings to be flown at half mast from Monday morning until sundown Saturday. To do so, the flag will be lowered for five days," Police wrote.
Club Q is a gay and lesbian nightclub that hosts a "Drag Divas Drag Show" on Saturdays, according to its website. In addition to the drag show, Club Q's Facebook page said planned entertainment includes "punk and alternative shows" before a birthday dance party, and an "all-ages brunch" on Sunday. "there is.
Drag events have become a focus of anti-LGBTQ rhetoric and protests. This is because opponents, including politicians, have proposed banning children from attending such events, falsely claiming they are used to "groom" children.
Justice Department spokesman Anthony Corey said Attorney General Merrick Garland was briefed on the shooting. The FBI said it was helping, but said police were leading the investigation.
Although the motive was not yet clear, nor was the gender identity of the victim, the incident came at a time when anti-gay rhetoric by extremists intensified. called a hate attack.
"Club Q is devastated by the senseless attacks against our community," said the club. Posted on our Facebook page. He said he offered prayers for the victims and their families, adding, "We thank our customers for their heroic and swift response in subduing the shooter and ending this hate attack."
Kevin Jennings of Lambda Legal, CEO of the national LGBTQ rights group, called for tougher gun control.
"America's toxic combination of prejudice and absurdly easy access to firearms has made such incidents all too common, LGBTQ+ people, BIPOC communities, Jewish communities, and other vulnerable populations. But it means our political leaders are paying the price again and again for inaction," said the statement. We must unite to demand meaningful action."
The shooting occurred hours before Transgender Awareness Week and International Transgender Day on Sunday. On this day, events are held to mourn and commemorate transgender people lost to violence around the world. The Colorado Springs shooting undoubtedly gave these events a special resonance.
Colorado Springs is a city of approximately 480,000 located about 70 miles south of Denver, home to the United States Air Force Academy and a prominent evangelical Christian ministry, Focus on the Family.
In November 2015, three people were killed and eight wounded when authorities said they opened fire on a man at the city's Planned Parenthood clinic in an attempt to wage a "war" on the grounds that he had performed an abortion. did.
The motives behind Saturday's shooting were not immediately clear, but memories of the Massacre at the Pulse nightclub that killed 49 people came flooding back. movie theaters, and last year's Boulder supermarket, in a state that has seen many notorious massacres.
In June, 31 members of the neo-Nazi group Patriot Front were arrested in Coeur d'Alene, Idaho, and charged with conspiring to riot at a pride event. Experts have warned that extremist groups may view anti-gay rhetoric as a call to action.
The month before, a fundamentalist Idaho pastor told his small Boise congregation that gay, lesbian and transgender people should be executed by the government. It was alongside a similar sermon on
There have been 523 mass murders since 2006, with 2,727 dead as of Nov. 19, according to the Associated Press/USA Today Database of Mass Murders in the United States.


https://www.cbsnews.com/news/colorado-springs-mass-shooting-club-q/ Colorado Springs shooting: 5 dead, 25 injured at LGBTQ nightclub.Anderson Lee Aldrich identified as suspect