Business
Tom's #Mailbag, June 10, 2022 | Tom's Mailbag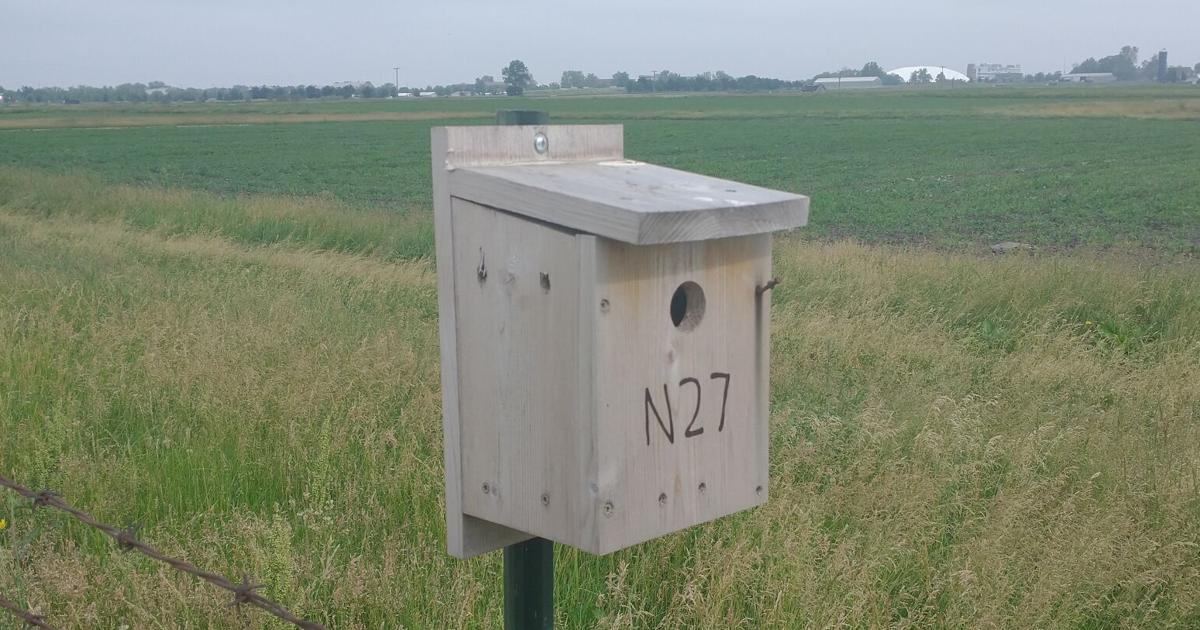 Ask Tom a question of your own by tapping here
This week's mailbag is stuffed like the profits of an Illinois television station during a six-way Republican gubernatorial primary election.
Questions about birdhouses along Windsor Road, donors to the University of Illinois athletic department, a new restaurant along Green Street, a new mural along Green Street, former tenants of a 140-year-old downtown Urbana building and a trail at Allerton Park.
Also, no Juneteenth holiday for Champaign County employees, remodeling at the Champaign Meijer, and road and parking lot complaints.
New mural
"They are painting a giant mural of Alma (Lorado Taft's Alma Mater down the street) on the side of one of the big Green Street apartment buildings (519 Green St.). What's up with that?"
"In Spanish 'Alma' means soul. This large-scale mural currently dubbed 'Alma' is an abstract figurative painting that seeks to capture the soul of this unique community in Campustown, Champaign, Illinois at the University of Illinois," said Levar Hoard, a Chicago mural artist.
He said the painting is being completed by internationally renowned muralists Ryan "Yanoe" Sarfati and Eric Skotnes, who have developed the original artwork which features a striking violet cloudscape juxtaposed against fragments of Lorado Taft's iconic statue just a block east on Green Street), florals and extruded architectural elements from the community.
This is the first mural in a series of world-class murals in Campustown under a new initiative called 'BAM!'—the Boneyard Area Mural !nitiative — and it's expected to be completed by the end of June, said Hoard, who said he manages both the initiative and its locations.
Hoard included biographies of the muralists:
— Ryan "Yanoe" Sarfati is a Belgian-American artist raised in America's deep southern culture of Baton Rouge, LA. His work blends bona fide street styles with sophisticated figurative, architectural, floral, and fluid forms resulting in an unmistakable aesthetic.
— Eric Skotnes is an American contemporary artist known for his award-winning colossal urban murals and paintings that modernize images of iconic sculptures from Italian and American masters. His stunning mural in Chicago for the Piccolo Sogno group catapulted him into the spotlight in the Midwest.
Matt Garrison, the CEO of R2 Companies, a Chicago-based private equity real estate firm, posted photos of the mural work in progress on Twitter and LinkedIn. "Sketching a new mural," he wrote.
Garrison holds master's and bachelor's degrees from the UI. His R2 Companies and Concord Capital Partners announced late last year that they had acquired the property portfolio of Bankier Apartments, a portfoloio that included what had been known as Skyline Towers at 519 E. Green.
"Leon Bankier hand-picked each property in this portfolio during his long career as an investor," said Garrison. "This is the epitome of a generational investment opportunity. Anyone who attended U of I understand that Green Street is the center of campus, and that the location and scale of our assets is irreplaceable."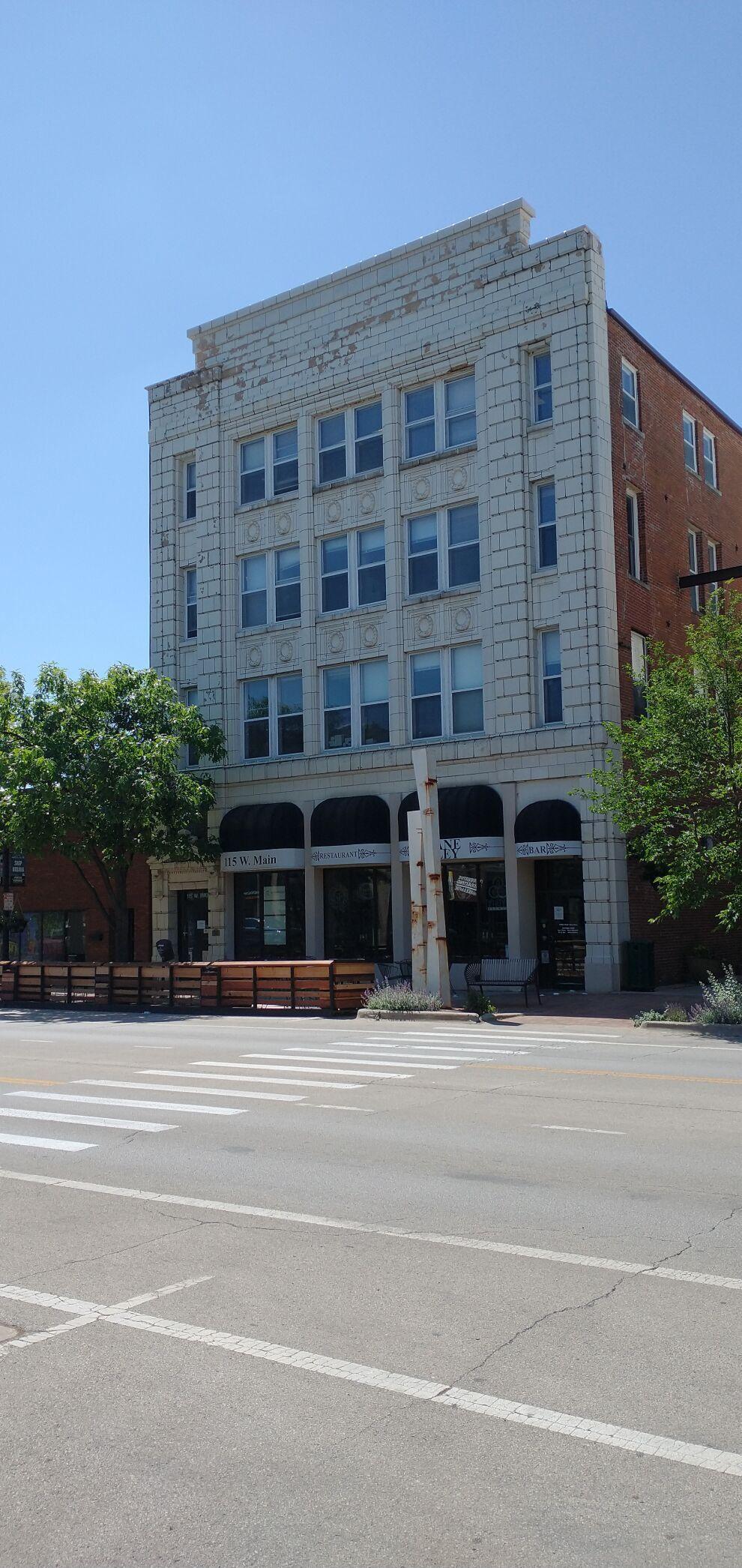 History of Crane Alley building
"We were so sad to hear of the closing of Crane Alley, our favorite pub in town. We got to talking about what had been in that space (115 W. Main St.) before. We remember the French restaurant and Mongolian Palace / Shanghai Club, but couldn't remember much else. What is the history of that location?"
Here's an unofficial list of the major tenants that have been at that location since 1941, taken from city directories:
J.C. Penney department store 1941-1962
Spurgeon's department store 1962
Masonic Temple 1963-1965
Lorry's Favorite Sports 1966-1982
Urbana Municipal Employees Credit Union 1983-1988
Pagliai's Pizza 1988-1993
Mongolian Palace 1994-1997
The Shanghai 1997
Chef Jean-Louis 1998-2003
Crane Alley 2003- 2022
The building, built in 1871, originally was known as Tiernan's Block and was the home of the Frank Tiernan grocery store, with an opera house on the third floor. The terra cotta facade was added in 1914.
Allerton Park trail
"Part of the south trail at Allerton has been closed for nearly a year. I call this part 'the two bridges area,' and it is one of my favorite parts of the trail. When can I expect to hike it again, and what are they doing?"
Part of that trail has been closed because some soil has eroded under one of the bridge's footings, said Alex Lourash, natural areas manager at Allerton Park.
"We are waiting for the creek to dry up (this summer hopefully) so we can get it fixed and built back up," said Lourash.
Low-flying plane
"Why is there a very large Navy plane circling Cherry Hills tonight (Tuesday)? They've made five circles so far very low and continuing."
Tim Bannon, executive director at Willard Airport, said that military aircraft were performing training operations.
New coffee shop?
"What's the latest on a coffee shop coming near Savoy Walmart?"
There's nothing new to report on that topic, said Village Administrator Christopher Walton.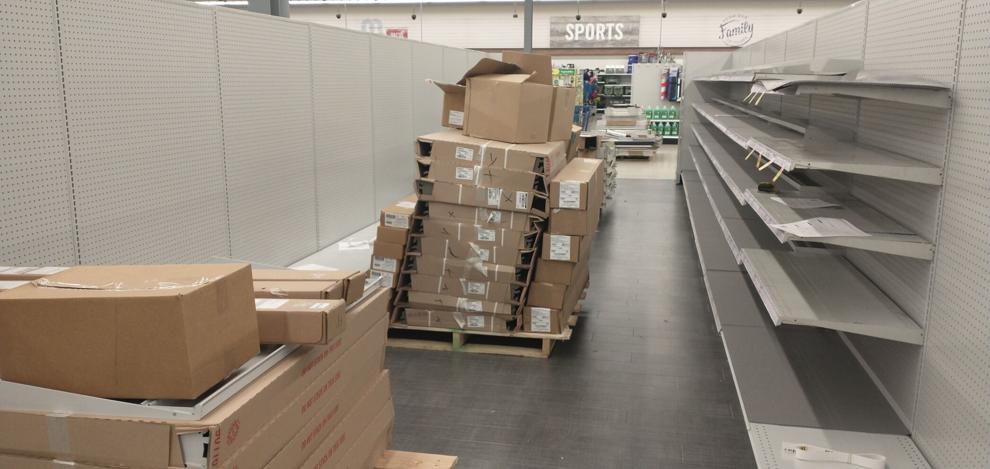 Champaign Meijer construction
"Does the construction project going on at the Meijer on Prospect Avenue have a completion date?"
A store department manager I talked to, who didn't want to give his name, said the remodeling is expected to be completed within a month.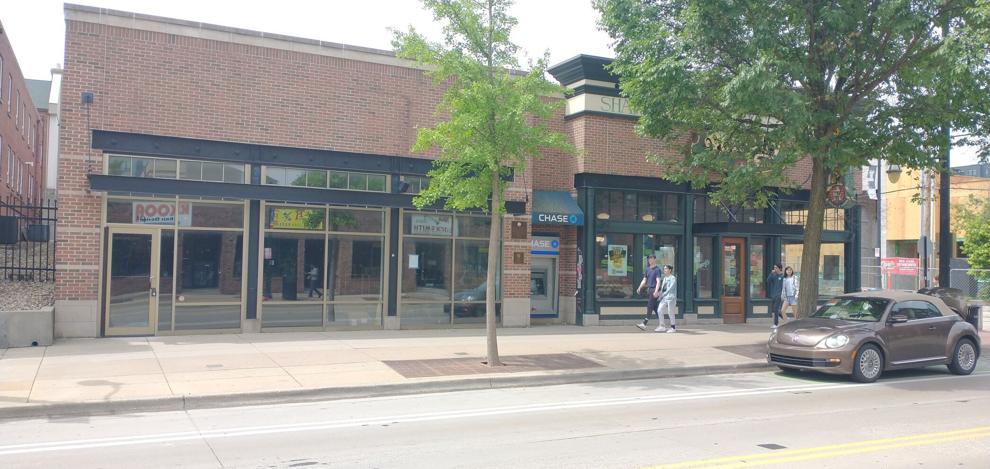 Former Starbucks site
"Is there any word as to what might be going on with the old campus Starbucks on Green Street, next to Potbelly? It looks like the building is getting pretty well gutted, but I'm not seeing any posted permits or anything that might indicate what's happening."
Champaign's Building Safety Department issued a building permit this week for a Forage Kitchen restaurant at the site at 503 E. Green St.
Forage Kitchen, with three locations in the Madison, WI area, is described as a "specialty salad, grain bowl and juice bar that redefines the grab-n-go experience." It makes use of fresh, local ingredients.
Parking lot perils
"I was parking on campus, lot A9 on 6th and Healey, the lot has potholes in it, large enough for a small car. Who would be responsible to fix them?"
That's the property of the University of Illinois' parking department.
"Thank you for your inquiry. The University of Illinois Parking Department manages approximately 150 parking lots and five parking structures. Lot A9, at Sixth & Healey, is included in this inventory," said Marty Paulins, director of parking for the UI's Urbana-Champaign campus. "The parking department is not equipped to do lot repairs on our own and therefore use either Facilities and Services or hire a private company.
"Unfortunately, the pandemic has delayed our maintenance plan by at least two years. This summer we are focusing on Research Park and Vet Med lots. Additionally, we are in the process of refurbishing two of our parking structures, which will ultimately result in more transient parking in that area of campus, in the near future."
Road complaints
"I live in Rantoul and travel to/from work down I-57 to Market Street and then head south to First Street. This road also needs resurfaced, as it's like a roller coaster for the first mile or two, due to the patchwork. Any chance it's on a list to be completed soon?
"We also have U.S. 136 between Rantoul and Fisher that's rough too."
Regarding your first question, the Illinois Department of Transportation is responsible for the section of Market Street from Ford Harris Road to the Hensley Road — the roughest part of Market between I-57 and Champaign.
"We have a patching project that is scheduled to begin weather permitting on Aug. 15," said Kensil Garnett, the Region 3 engineer for IDOT. "The maintenance team section responsible for this area will keep the road safe for the traveling public until a needed improvement can be designed, awarded and construction complete."
Garnett said the section of road is not scheduled to be resurfaced in IDOT's FY 2022 – FY 2027 construction program.
Regarding U.S. 136, the section from the McLean County Line to east of Fisher is in the FY 2023 – FY 2027 portion of the construction program, he said.
"We plan to perform a standard overlay with some ADA (Americans with Disabilities Act) improvements. The project length is 6.24 miles and it has a program cost of $3,690,000," said Garnett. "U.S. 136 from Maplewood Drive in Rantoul to east of Main Street in Gifford is in the FY 2023 – FY 2077 portion of the current Multi-Year Program. We plan to perform a standard overlay with some ADA improvements. The project length is 6.12 miles and it has a program cost of $3.23 million. The maintenance team section responsible for this area will keep the road safe for the traveling public until the needed improvement can be designed, awarded and construction complete."
Fundraising for UI athletics
"Is there data on the breakdown for what the U of I Foundation 'raises' for the UIUC Division of Intercollegiate Athletics compared to what's raised (donated) for the rest of the campus?" 
Fundraising is primarily the responsibility of the University colleges/units, said Sue Johnson, assistant vice president of marketing & communications at the University of Illinois Foundation.
"As of 5/20, the University of Illinois Urbana-Champaign has raised in excess of $250 million during FY22; less than 10 percent of that total is donor-allocated toward DIA," she said. "Moreover, approximately 12 percent of the $2.6 billion UIUC has raised during the 'With Illinois' campaign has been donor-restricted for athletics."
No Juneteenth holiday in Champaign County
"I notice that Juneteenth is a federal holiday as of 2021, and an Illinois holiday as of 2021 also. The Sixth Judicial Circuit has a page that notes holidays, https://www.sixthcircuitcourt.com/2022.php for the various county's courts. Champaign County is the only one that doesn't celebrate the holiday. Do you know why?"
Juneteenth by state law is to be celebrated on June 19, although since that is a Sunday this year it will be marked on Monday, June 20.
Champaign County Executive Darlene Kloeppel said that county boards set each county's holidays on an annual basis, usually in November for the following year as they appropriate the amount for employee benefits in their annual budgets.
"Each county must consider several factors — number of employees, tax revenue, other employee benefits offered, service interruption, bargaining unit contracts, etc.," she said. "Counties provide a wide variety of services that may have differing needs among departments.
"Providing paid holidays also results in costs. Champaign County currently has a daily payroll of approximately $105,190.
"The county operates many services on a 24/7 basis and provides an increased hourly wage for employees who must work even if we close offices. This is approximately one-fourth of our employees, increasing the county payroll on a holiday by $26,500. In addition, employees who work on the holidays often accrue overtime as they do so, which further increases their hourly rate of pay, or for larger departments with many staff taking time off during the year, an additional staff person must be hired to cover others' time off.
"Each holiday costs the county about $150,000, and Champaign County currently provides 13 paid holidays for a total annual cost of almost $2 million."
Kloeppel said the county board considered several factors in deciding to not mark Juneteenth as a holiday this year, including the fact it had just given premium pay bonus with the county's share of ARPA funds, that it would be a bargaining point for the new AFSCME contracts just beginning and that the county already gives more holidays than the local municipalities do.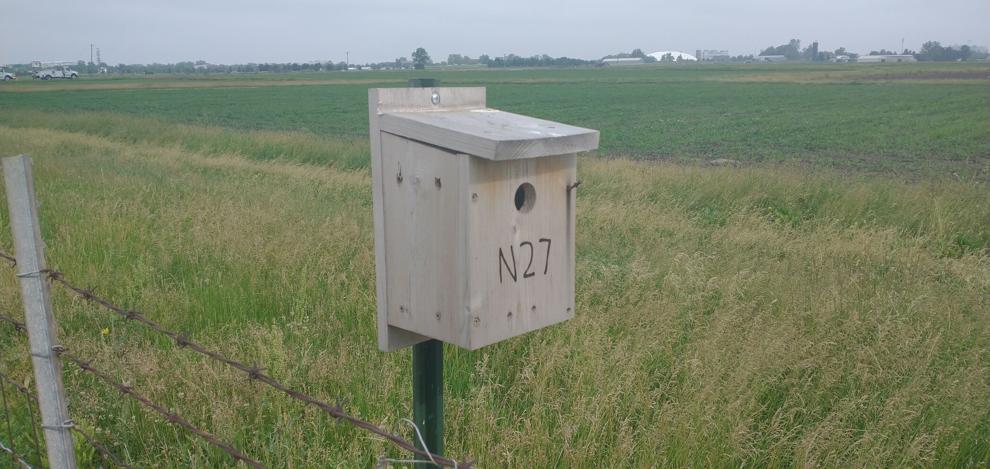 Birdhouses along Windsor Road
"What is the purpose of the small birdhouses along the fence on the north side of Windsor Road between Lincoln and Fourth Street?"
"We started putting nest boxes out in spring of 2021 both to facilitate research on the breeding ecology of birds and to expand research opportunities for students," said Thomas J. "T.J." Benson, principal research scientists at the Illinois Natural History Survey. "There are boxes along fencelines throughout the South Farms area, as well as in natural areas associated with the university in and around Champaign-Urbana.
"The ones near roads, like the reader observed, are sized for use by Tree Swallows or Eastern Bluebirds, whereas those in wooded areas are a bit smaller and designed for House Wrens.
"Being able to place these boxes in a range of settings allows us to examine a variety of questions such as the influence of surrounding landscape on diet and reproductive success, and also provides a convenient way to investigate the influence of factors such as temperature and disturbance on development."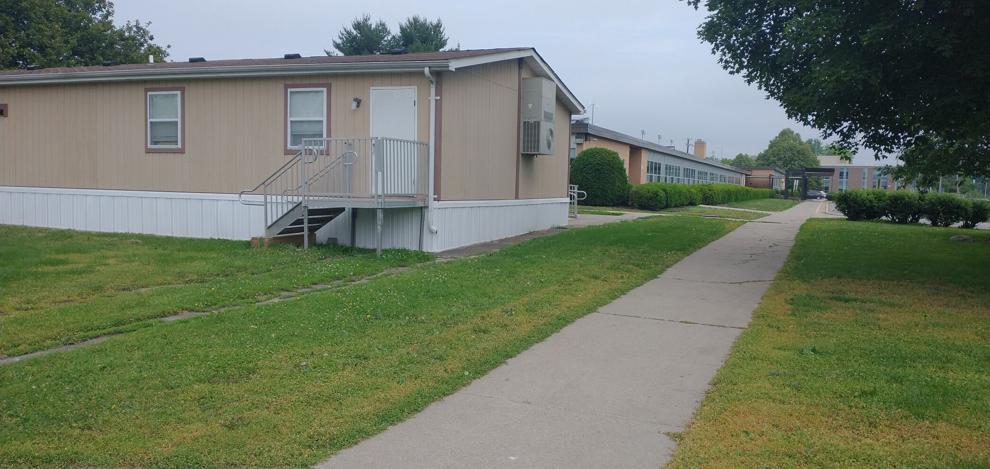 Portable classrooms in Champaign
"With the referendum construction projects coming to an end, why are there still portables at Franklin and Jefferson (middle schools)? How many are there and long have they been there? Why are they talking about another addition to IPA to make it K-8 when it seems like that wouldn't solve the overcrowding issue that already exists at the other middle schools?"
"The referendum project only included Edison Middle School. It did not include additional classrooms at the other two middle schools," said Stacey Moore, spokeswoman for the school district.
Jif peanut butter
"With Jif peanut butter being on recall, the local store shelves are pretty bare of peanut butter these days.
Any idea when we might start seeing Jif again?"
There is no timeline for reopening the Jif plant in Lexington, Ky., where nearly 50 different types of peanut butter products sold in the United States were produced before a recall for possible salmonella contamination.
The J.M. Smucker Co., which owns Jif, said that the Lexington plant is the largest peanut butter-making facility in the world. Smucker also said this week that it expects to lose $125 million in product recovery, manufacturing downtime and consumer refunds because of the recall.


Tom's #Mailbag, June 10, 2022 | Tom's Mailbag Source link Tom's #Mailbag, June 10, 2022 | Tom's Mailbag