Entertainment
Muti and CSO pay tribute to Verdi at the monumental concert performance of "Masquerade Ambero" | Chicago News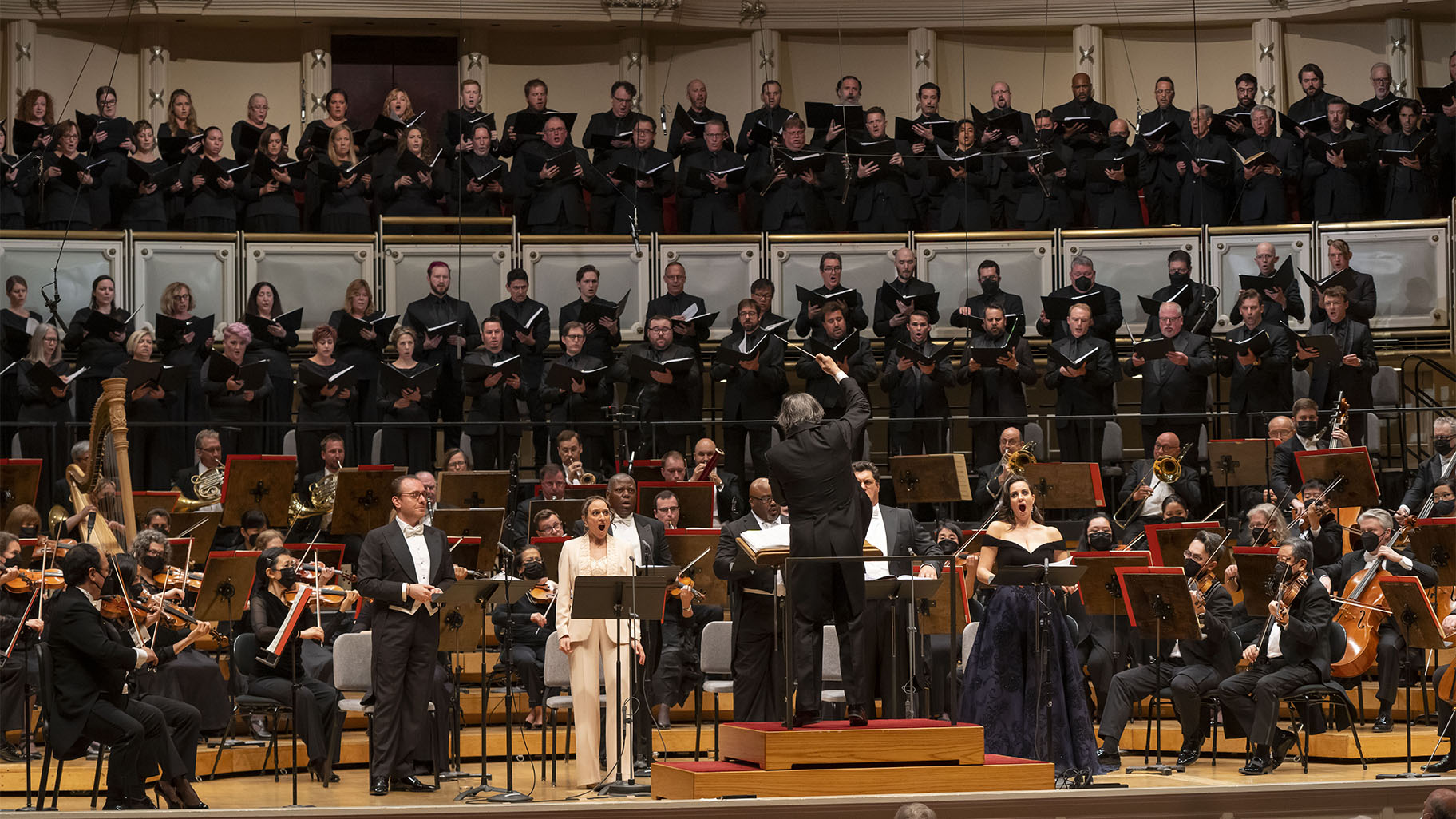 (Credit Todd Rosenberg)

Maestro Riccardo Muti negotiated inspiring with the COVID-19 Devil last week. If he was allowed a rapid recovery, he promised to lead the monumental concert performance of Verdi's "Mashera's Ambalo (Masked Ball)" in Chicago's full. Symphony orchestra and chorus, and a wonderful soloist cast will appear in a noble form on the stage of the orchestra hall.
Thursday night's Dangle Production was a major event for Muti's penultimate season as CSO music director. And it was a magnificent homage to both the composer he had long cherished and the orchestra he had accepted and nurtured since becoming music director in 2010. It was astounding. Muti not only clearly enjoyed this homage to Verdi's Italian roots and musical genius, but also best heard in concert format when music was largely freed from the distractions that could often come. In a fully staged piece, he adhered to his belief that he was most fully appreciative. This is an opportunity for the director's whims, exaggerated acting, and elaborate landscapes to take hold.
Verdi's music is a wonderful theater in itself, embodying every element of the drama that is spun. Hearing it sung in Italian is a language that has music in its own right (in this case Antonio Somma's script after the work of Augustin Eugene Scribe). (Note: The CSO provides concert attendees with a free script in both Italian and its English translations, in addition to the standard printing program).
The opera begins with an unforgettable prologue that lets us sing the score before we hear the singer's own voice. There is a beautiful sound of low strings, a quick transition to a moment of great anger, and a return to some kind of calm and romance hint. This seamless change in dramatically different moods and events is overturned by a deep sense of betrayal that occurs when one of these men's wives is found to be in love with their husband's friends for many years. It reflects the story of an opera that revolves around the friendship of men.
The first "masquerade" performed in Rome in 1859 caused many headaches to Verdi in the face of real-life political issues and censorship in Europe. Its settings had to be changed several times, and this version was moved to Boston during the British colonial era. But it's not really important because it's a relationship. At the heart of the opera are jealousy, guilt, enthusiastic charm, and "hidden" emotions.
Simply put, the story begins with Earl of Warwick Ricardo and the Governor of Boston (Honey Voice Tenor Francesco Meli) planning a masked ball. Among his guests are Renato (a strong and richly colored baritone Lucasalci) and his wife, Amelia (soprano Joyce El Cory, who captured the darkness and guilt of her character early in Act II. There is. Love.
Enter the fortune-teller Ulrika (with a particularly powerful performance by mezzo-soprano Julia Matochkina). And while Ricardo hides, he hears Amelia confessing to this woman about her love for him, and her passion that she will surely destroy her husband. Ask how you can overcome it. She is encouraged to collect magical herbs, so do so.
After Amelia leaves, Ricardo also consults with Ulrika, who warns him that the next man waving his hand will kill him — a warning he will erase. The "next man" turned out to be Renato. Renato arrives at his friend Ricardo to warn two conspirators, Samuel (Alfred Walker) and Tom (Kevin Short), both wonderfully rich-voiced bass baritones. He is planning to kill him. However, along the way, Renato discovers that Ricardo and his wife are in love, and he joins the conspirator in a plan to kill the governor, believing he is his friend. The deadly act was done by Renato during a masked ball hosted by Ricardo, ironically just before Ricardo said goodbye to Amelia and sent both her and her husband Renato back to England. happen.
Along the way, soprano Damiana Mitzi sings like a jewel as a pageboy oscar, baritone Ricardo Jose Ribera as a sailor, tenor Lunga Eric Haram as a judge, and Aaron Short as Amelia's servant. did.
The brilliant treble of the epic chorus directed by Metropolitan Opera chorus master Donald Palumbo was no more ideal. And, of course, the epic CSO was chosen by cellist John Sharp (and all the lower strings), and timpaniist David Herbert, in the usual energetic and meticulous manner of Muti. It was an essential and emotional voice throughout.
This concert has been billed as the last Verdy project with the Maestro CSO, but the audience will return regularly to lead other such concerts after he resigns as music director at the end of next season. Can be expected.
The concert will be repeated on Saturday, June 25th at 8pm and Tuesday, June 28th at 7:30 pm. For tickets, please visit the following website. cso.org Or call (312) 294-3000.
On Monday, June 27th, at 6:30 pm, Muti and CSO will hold a free concert at Millennium Park's Japlitzkar Pavilion with a program featuring Shostakovich's "Festive Overture" and Tchaikovsky's "Symphony No. 4". To do. For more information on security, please visit millenniumpark.org.
Follow Hedy Weiss on Twitter. @HedyWeissCritic
---


Muti and CSO pay tribute to Verdi at the monumental concert performance of "Masquerade Ambero" | Chicago News
Source link Muti and CSO pay tribute to Verdi at the monumental concert performance of "Masquerade Ambero" | Chicago News