Lifestyle
Dear Abby: My wife is not supported in dealing with MIL | Dear Abby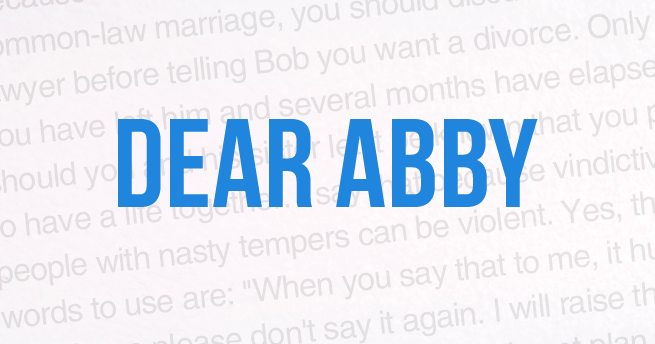 Dear Abbey: I need some advice about my mother-in-law. She hated me from the first time she met me because I came from the "city" rather than the countryside. I gave her birthday and holiday gifts and invited her on a day trip with us, but she always refuses.
She also lies about me. She claims that I have a sexually transmitted disease, spend all my son's money, and so on. She even spread rumors that I wouldn't allow her at our wedding. She lives 46 miles away and has never visited her son for five years after we got married. I can't get a driver's license because of medical problems, so I'll take him to her.
Our kids and I can't even get into her house. We have to sit in the car. She behaves like our kids don't exist, but she has pictures of her two other grandchildren on Facebook and goes to see them almost every week. My husband hasn't seen any problems with her behavior, and he says he's not on his side. I don't know what to do. -Peep in Pennsylvania
Dear Peaved: I would like sympathy. Your husband refuses to admit that there is something wrong with his mother's behavior, which is off the chart. We hope you understand that most men stand up for their wives and children when they are abused.
You couldn't change the witch of your husband or mother, and you didn't even mention quitting your marriage, so you just have to adapt. Instead of sitting in the car for hours, start by planning activities that you and your child can enjoy while your husband visits your mother. Even better, arrange "other" transportation for your husband.
Dear Abbey: I'm a 24-year-old female and have been dating a man for 7 years. "Ken" is 27 years older than me. (I chased him.) I love him, but I'm always a little confused about my relationship with him and he knows this. Recently I feel very guilty. My heart knows that my love for Ken isn't enough for what he really deserves.
He is a good and honest person and I enjoy our relationship. We do well, have a lot in common and build a great team. I am comfortable with us and our lives. But lately, I want to be myself, alone, and not in a relationship. I have a strong desire to concentrate on myself, so I can grow into the person I envision. Do you have any advice other than the obvious? Will I leave the relationship? -I want more in Wisconsin
Dear recruitment: You got involved with Ken when you were young. It seems that he has never given himself time to grow completely as an individual. You say you are still "in a relationship", not a marriage. This may be a blessing given your ambivalence.
Many women will be happy to live their lives in a relationship that has all the positive qualities you have with Ken. Going forward, I'm sure both will discover this. However, you have sought my advice, so please discuss this with an authorized relationship counselor before making the final decision.
Dear Abbey, was written by Abigail Van Buren, also known as Jeanne Phillips, and founded by her mother, Pauline Phillips.Contact Dear Abbey www.DearAbby.com Or PO Box 69440, Los Angeles, CA90069.
Dear Abby: My wife is not supported in dealing with MIL | Dear Abby
Source link Dear Abby: My wife is not supported in dealing with MIL | Dear Abby